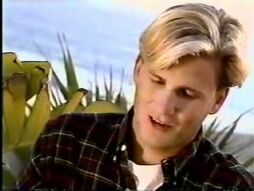 Aaron Behle (from Orange County, California) was a cast member on the "The Real World: Los Angeles."
He was 21 years old during his time on the show.
Biography
Edit
Aaron is a business/economics major at UCLA where he enjoys difficult, cutthroat classes and already has a job lined up for the next fall as a Certified Public Accountant.
He was Student Body president and President of the National Honor Society. He loves to surf and appreciates the diversity of the people in Los Angeles, but his conservative politics are at odds with the liberalism of the area.
Aaron voted for George H.W. Bush and is unhappy about having a Democrat in the White House, remarking that Bill Clinton may be the "antichrist."
Despite his conservatism, he is pro-choice on abortion along with his girlfriend, Erin, which provides conflict with Jon in Episode 10. He has a brother who is engaged to be married.
He rooms with Dominic, with whom he becomes best friends, despite their different politics.
Jon thinks Aaron enjoys a good confrontation as an opportunity to get his point across but says that he engages in one-sided discussions in which he refuses to listen to other people, making it impossible to talk to him, a point echoed by Tami & conceded by Aaron himself. His business after "The Real World: L.A." is unknown.
Community content is available under
CC-BY-SA
unless otherwise noted.