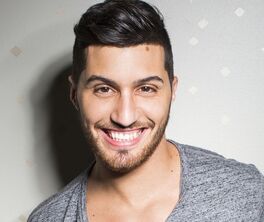 Bruno Bettencourt (from East Providence, Rhode Island) was a cast member on "The Real World: Skeletons." He was 24 years old at the time of his appearance on the show.
MTV Biography
Edit
This stylish sensitive ladies man from East Providence loves to dress to impress and spends 30 minutes a day sprucing his hair.
Born in Portugal on the island of Pico, Bruno was raised with old-fashioned values and following Portuguese traditions such as a ceremonial slaughtering of pigs. He loved his time on the island and even had his own pet cow! Although he has close with his father, their relationship was filled with tough love.
Bruno was raised with tough love, sent to a Catholic school where discipline was not always verbal, and as a result, he developed a bad temper.
When he moved to the United States, Bruno was bullied because he didn't speak English very well. He has a tough exterior and isn't intimidated by anyone.
Once Bruno was arguing with his then girlfriend and stormed out of the house in a huff. While walking through the snow, Bruno was hit by a car going almost 50 mph and had to reteach himself how to walk and talk again. Despite the life altering experience, he wears his scars proudly like a tattoo and feels the accident taught him to let go of his anger.
Quite stubborn, Bruno hasn't spoken to his brother Briah (a model in NYC) in three years because of a petty argument. Bruno is excited to test the waters outside of his small town in Providence and bring his unique style, culture and attitude to the Real World.
After "The Real World"
Edit