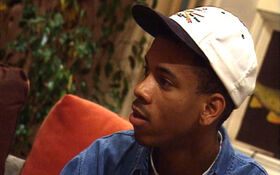 David Edwards (born on April 23, 1971 in Washington, D.C.) was a cast member on "The Real World: Los Angeles."
He was 21 years old during his time on the show and the first "Real World" cast member to be evicted.
Biography
Edit
David is a stand-up comedian who has been in Los Angeles for a couple of months, having worked in local clubs and appeared on FOX's "In Living Color."
He is meticulous in taking care of his clothes because he grew up poor and his mother had to scavenge dumpsters for basic necessities.
David experiences a number of differences with his roommate, Jon over things ranging from musical tastes, household duties, racial stereotypes & his perception of the cliques in the house which cause him to come into conflict with the others as well.
Jon believes that as a comedian, David is always trying to be funny and acts out as if in front of an audience, much to his irritation.
In Episode 6, David pulls the bed covers off an underwear-clad Tami as a joke which develops into a serious issue among the housemates and the cast ultimately evicts him from the house in Episode 7.