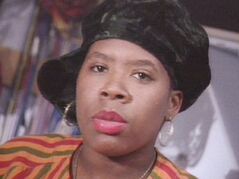 Heather B. Gardner (born on November 13, 1971 in Jersey City, New Jersey) was a cast member on "The Real World: New York."
Biography
Edit
Heather is a hip-hop artist with the group Boogie Down Productions, who is on the verge of getting her big career break. She has been on tour and has been on "The Arsenio Hall Show," but says that in going solo, she has to start all over again.
When discussing racial experiences in Episode 1, Heather says that after going to an entirely black high school, going to college with people of different ethnicities was a new experience for her. Because she says she stays up at nights, she rooms with Andre, who sleeps well into the day.
She has a cat named Smokey, who is sometimes shown in conflict with Norman's dog, Gouda.
In Episode 2, Heather is seen recording for her album "The System Sucks." She considers herself authentic and thinks that Eric (by contrast) is too concerned over his image and what people think about him.
In Episode 12, she and Eric have a discussion on her belief that he is insincere and expresses little of substance while his complaint that she is unfeeling and dismissive, eventually coming to an understanding as friends.
MTV Biography
Edit
A hip-hop artist with the group Boogie Down Productions, Heather B is on the verge of "blowing up." Although she says that she wasn't doing much before getting on "The Real World," her life suggests otherwise.
During the season, Heather B spends a lot of time in the studio recording her first album. She has a lot of drive and dedication to whatever she is doing. She makes friends quickly and always speaks her mind regardless of the consequences.
Heather B may truly be as real as it gets.
After "The Real World"
Edit
Heather was signed to Pendulum Records in 1995. In 1996, she released her first album, "Takin' Mine." Her single "All Glocks Down", an anti-gun violence anthem, received radio play and so did the follow-up single "If Headz Only Knew."
In 1997, she signed with MCA Records and in 1998 she released the single "Do You," which had a considerable amount of television and radio airplay.
In 2002, Heather produced her second album "Eternal Affairs." Despite not making the Billboard charts, it received positive reviews.
Outside of her music career, Heather has appeared in various projects and television specials related to "The Real World."
She has appeared in the film "The Wedding Video" (which was directed by "Real World" alum Norman Korpi) and also appeared in a 2005 television commercial for America Online anti-virus software.
In 2010, she released her third album "Open Bar."
As of 2012, Heather is the co-host of the Sirius Satellite Radio show "Sway in the Morning" with former MTV reporter Sway Calloway. She also has a YouTube series called "The Happy Hour with Heather B."
Community content is available under
CC-BY-SA
unless otherwise noted.