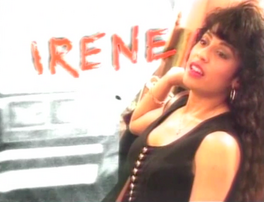 Irene Berrera-Kearns (born on August 14, 1967 in Covina, California) was a cast member on "The Real World: Los Angeles."
She was 25 years old at the time of the show.
Biography
[
]
Irene is a Deputy Sheriff for the Los Angeles County Sheriff's Department who works as a courtroom bailiff, delivering subpoenas and handling evictions. She serves as the "mom" of the house and develops a close relationship with Jon.
Her fiance, Tim, is also a Deputy, whom she met at work, and their wedding in the 11th episode is one of the highlights of the season.
She has a predilection for blonde-haired men, leading her to think that Tim is jealous when they meet Aaron upon moving in.
Irene becomes depressed in Tim's absence, but becomes good friends with Jon, whom she says makes her laugh and defends him from Aaron's taunts. Tami describes Irene as the most stable member of the household.
After "The Real World: L.A."
[
]
As of 2008, Irene is is still a deputy with the L.A. County Sheriff's Department and a mother of two.