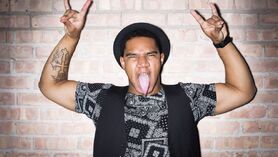 Jason Hill (from Raleigh, North Carolina) was a cast member on "The Real World: Skeletons." He was 24 years old at the time of his appearance on the show.
MTV Biography
Edit
This smooth talking, southern Casanova makes waves with the ladies whose hearts he easily captures. Jason was fantastic as a car salesman but lost his job and now dreams of making it big as a model.
A true Mama's boy, Jason was raised by his young mother, who gave birth to him when she was 18 and he grew up not knowing his father.
Money has always tight and been a serious concern for Jason and his mother. Growing up, there where times when Jason and his mother had live with light from a lantern.
In school, he was the nerdy poor kid with glasses, but when got contacts, Jason went from Urkel to Jaleel attracting lots of attention from the girls.
Jason would like to one day meet the man who chose a life without the presence of his son and has learned a valuable lesson from his father: he will never walk out on his own child.
After "The Real World"
Edit