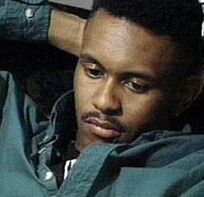 Kevin Powell (born on April 24, 1966 from Jersey City, New Jersey) was a cast member on the first season of "The Real World".
He was 26 years old at the time of his appearance on the show, making him the oldest cast member in the first season.
Biography
Edit
Kevin is a poet, writer and educator. He says that his father (who never married his mother) "disowned" him when he was about 8 or 9 years old. As a result of lacking a strong male role model, Kevin got into a lot of trouble as a teenager which is why he now mentors a young man named Morris to help him fight negative influences from the streets.
Having abandoned his initial thoughts of law school, Kevin is now studying political science and moved to New York in 1990 to pursue his writing, doing news articles and music reviews. He has a girlfriend named Kaseemi. He also has strong beliefs regarding issues of race.
Kevin has gotten into heated arguments with his housemates over these issues and says the racist treatment he has suffered by the police & the atrocities suffered by various peoples throughout American history give cause for his anger & bitterness and his dismissal of the idea of the American melting pot. He concedes that he has his own prejudices moving into the loft, some of which were disproven and some not.
Kevin sometimes finds it difficult to connect with his housemates and after they play a prank on him, he leaves the loft & after the prank's revelation, he considered moving out, but later returned.
He rooms with Eric with whom he discusses their different views on race in Episode 5.
In Episode 11, Kevin has a heated argument with Julie, who says he threatened her with a candlestick holder. He denies this and sees the reaction of the cast members who took her side of being influenced at least in part by race.
MTV Biography
Edit
Kevin is a poet, writer and educator struggling to overcome many of the issues facing African American men in 1992.
He has strong beliefs and is more than willing to argue the point with his loft-mates. At the same time, he is sensitive to their trials and tribulations and tries to help them when he can.
The oldest of the cast members, Kevin sometimes feels like he is at a different place than the rest of his roomies and has some difficulty connecting with them.
After "The Real World"
Edit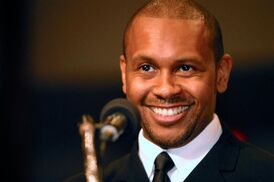 Kevin became a writer for Vibe magazine, an author, activist and a politician.
His books include "Who's Gonna Take the Weight?" and "Keepin' It Real," a collection of post-MTV reflections.
He also lectures around the country about pop culture, politics and social justice & has unsuccessfully run for Congress three times in New York.
Community content is available under
CC-BY-SA
unless otherwise noted.