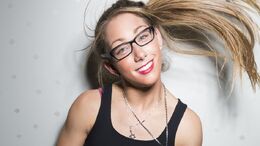 Nicole Zanatta (from Staten Island, New York) was a cast member on "The Real World: Skeletons." She was 23 years old at the time of her appearance on the show.
MTV Biography
Edit
Straight out of Staten Island, this EMT splits her time between saving lives and hooking up with girls.
Nicole is extremely competitive, and found an outlet for it by becoming the first female on her football team.
As a triplet, larger-than-life Nicole is also no stranger to conflict. The sisters all still live under the same roof and their arguments are legendary. Nicole doesn't know how to vacuum, do laundry or clean dishes!
Coming from a traditional Italian family and with her two sisters now both engaged, Nicole is feeling the heat to start settling down, but can't shake her player ways. When she's not hooking up with the flavor of the week, she spends most her time in the gym training to become a fire fighter.
Nicole can't wait to bring a whole lot of Staten Island to Chicago…"we're all just a bunch of animals here
Community content is available under
CC-BY-SA
unless otherwise noted.