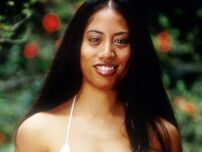 Ruthie Alcaide (from Honolulu, Hawaii) was a cast member on The Real World: Hawaii. She was 21 years old at the time of her appearance on the show.
Biography
Edit
Ruthie is a bisexual, adopted, Filipina college student at Rutgers University and a triplet with a brother and sister in addition to a second sister.
She has a penchant for over-drinking which often results in her passing out at bars and inappropriate behavior such as giving a table dance for her boss' wife.
During another binge at the house, she takes a drinking glass and throws it, shattering it.
During the first episode, Ruthie loses consciousness and her house mates call the paramedics. Her housemates (along with Ruthie's two sisters) explore the possibility of sending her to a rehab center, but cannot do so without her consent.
After Ruthie drives home from a bar intoxicated, her housemates have a meeting with her and tell her she must go to rehab or be evicted from the house. Ruthie feels betrayed, but goes to rehab, eventually returning when her stint is completed.
MTV Biography
Edit
One of triplets and the only native born Hawaiian in the cast, Ruthie was raised in a foster home by a strict, Filipino family.
According to Ruthie, her foster parents favored their biological children and discouraged Ruthie from educating herself.
During high school, Ruthie enrolled in an "Upward Bound" program that boosted her self-esteem. After high school, she left her foster family and did not contact them again until she enrolled at Rutgers University.
Ruthie's goal is to run her own magazine. She has won awards for her freestyle rapping and performs spoken word poetry. She is bisexual and has a girlfriend, Jess, who lives near Honolulu.
After "The Real World"
Edit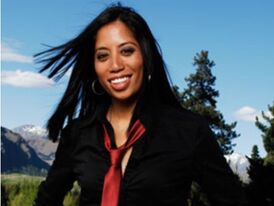 Ruthie went on to become a singer in a band and a lecturer on college campuses about her experiences. She has also appeared in alcohol awareness commercials on the Armed Forces Network (AFN).
Explaining her dislike of labels pertaining to her sexual orientation, she has stated that she does not like being called "straight", "gay" or "bisexual," saying, "Just call me Ruthie."
As of 2008, Ruthie resides in Los Angeles, has recorded a hip-hop/rap album and also writes poetry.
Community content is available under
CC-BY-SA
unless otherwise noted.