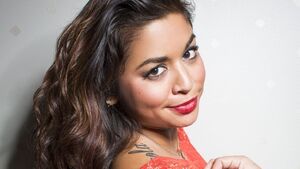 Sylvia Elsrode (from Kansas City, Missouri) was a cast member on "The Real World: Skeletons." She was 25 years old at the time of her appearance on the show.
MTV Biography
Edit
Sassy Sylvia is a gorgeous Mexican-American bartender and aspiring actress out of Kansas City who loves being in the spotlight at all times.
Raised in Texas, Sylvia was brought up to cherish cultural traditions like tequila drink-offs.
While she embraces being a serial dater and having a roster of men back home, she longs to find love. She's doubtful that she'll find love and almost always gravitates towards dysfunctional romantic relationships.
Sylvia is always the first to crack a joke and make everyone laugh. She dances to her own drum and refuses to let anyone control her or put her in her place.
Laugh with her, prank with her, dance with her… but cross her the wrong way and meet her hot fiery temper!
Sylvia's skeleton is a former "boss from hell" named Alicia.
After "The Real World"
Edit