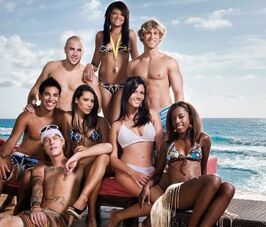 The Real World: Cancun is the 22nd season of "The Real World." It aired from June 24, 2009 to September 9, 2009.
It is the only season of The Real World to be filmed in Mexico.
The season featured eight people who lived in a hotel converted into a suite. It is the most recent season of The Real World to be set outside the United States after "The Real World: London", "The Real World: Paris" and "The Real World: Sydney."
Series co-creator Jonathan Murray explained the choice of Cancun, saying, "Cancun is a good one to do after Brooklyn, which was a more gritty environment."
Primary production completed in April and was not affected by the swine flu outbreak in Mexico.[5] Executive Producer Jim Johnston said, "We had stopped production before this thing reared its ugly head."
Consisting of 12 episodes, the season and was viewed by 1.4 million viewers, the smallest debut ever for a season of The Real World at the time
American synthpop band LMFAO has a guest appearance in Episode 7, which ties into the cast's work assignment.
Bunim-Murray Productions also shot an unscripted 2003 movie called "The Real Cancun" although it was unrelated to the series.
Mexico also served as the season vacation spot for the cast of "The Real World: Los Angeles" and Cancun in particular served as the vacation spot for the casts of "The Real World: Hollywood" and "The Real World: Las Vegas (2011)" with the latter using the same suite as the 2009 season.
Assignments
Edit
Residence
Edit
Cast Members
Edit
List of Episodes
Edit
After Filming
Edit