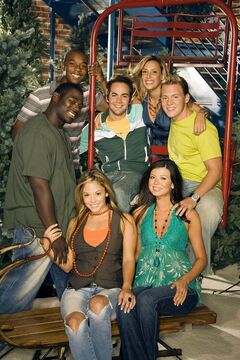 The Real World: Denver is the 18th season of "The Real World." It aired from November 22, 2006 to May 16, 2007.
It is the second season to be filmed in the Mountain States region of the United States, specifically in Colorado.
The season featured seven people who lived in a two-story building.
It premiered on November 22, 2006 and consisted of 28 episodes (which along with the 2002–03 Las Vegas season) is the highest number to date. The season premiere was watched by 4.3 million viewers.
Assignment
Edit
The Denver cast worked for Outward Bound. They were trained on wilderness courses and later guided New Orleans teenagers displaced by Hurricane Katrina in hiking treks.
Residence
Edit
The 21,927-square-foot (2,037.1 m2), two-story building is located in Lower Downtown (LoDo) Denver, a historic district and mixed-use neighborhood.
Constructed in 1963, the building was sold in late April for $2.7 million to 1920 Market Street, LLC, a holding company that included the producers of the series.
The Denver LoDo building was the first property in the 18 seasons of "The Real World" that Bunim-Murray Productions purchased for the filming of the series. Bunim-Murray had to seek permission from the city to temporarily rezone it from its commercial status to residential.
On December 1, 2006, the building was sold for $3.3 million to Steve and Shane Alexander, (partners in The Alexander Group, LLC). The sale included all of the furnishings that were used for the filming of the series (except for the artwork, which had been on loan).
Cast Members
Edit
List of Episodes
Edit
After Filming
Edit
The entire cast attended the reunion which was aired on May 23, 2007 as "Welcome to the Mile High Club: The Real World Denver Reunion" & was hosted by Susie Castillo.