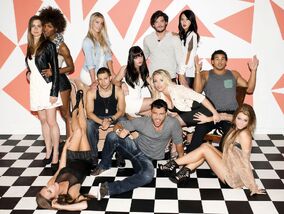 The Real World: Ex-Plosion is the 29th season of "The Real World." It aired from January 8, 2014 to April 7, 2014.
It is the eighth season of the series to be filmed in the Pacific States region of the United States, specifically in California after "The Real World: San Diego" in 2011.
After 21 years, this season marks the first big change in the show's format. The roommates move into their San Francisco home, make relationships with one another and also with the San Francisco locals. A month into the show, the cast goes on an off-the-grid vacation.
When they return, they come to discover that many of their exes have moved in as well as additional roommates. The Exes were each misled by producers to believing that he or she would be a replacement roommate, unaware the other Exes would be moving in as well until move-in day.
The season features a total of twelve cast members over the course of the season. It is the seventh season to take place in a city that had hosted a previous season, as the show's third season was set in San Francisco in 1994.
It is also the sixth season to be located in California. San Francisco, California was first reported as the location for the twenty-ninth season in an August 2013 article on the website "Vevmo." The show's production began in August of 2013.
Season Changes
Edit
Employment
Edit
Residence
Edit
Cast Members
Edit
List of Episodes
Edit
After Filming
Edit
The Reunion
Edit