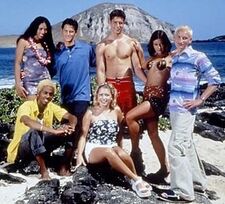 The Real World: Hawaii is the 8th season of "The Real World." It aired from June 15, 1999 to November 9, 1999.
It is the fourth season of the series to be filmed in the Pacific States region of the United States, the only season not named after a city and the first season set in the United States to be filmed outside of the contiguous United States.
The season featured seven people who lived in a modern beach house in Honolulu, Hawaii. It is notable for the cast's concerns over castmate Ruthie Alcaide's excessive drinking, resulting in her leaving the house to enter an alcohol treatment program, which is cited as one of the series' memorable moments by "Time" magazine.
Residence
Edit
The cast resided in a 4,095-square-foot (380.4 m2), single-story, three-bedroom, four-bathroom house at 3169 Diamond Head Road in Diamond Head, Hawaii.
The property's two-story guest house housed the control room and production offices during the filming. At the time of the filming of the series, the Diamond Head House rented for $10,000.00 a month and was listed for sale for $7,500,000 in 2006.
By March of 2008, both houses were torn down, and new building permits were issued in February of 2008.
Assignment
Edit
The seven housemates worked at the Waikiki Location of Local Motion, a clothing and surf apparel store. They were responsible for booking in-store entertainment under a company they christened "7 Strangers Productions."
MTV Summary
Edit
Set amidst the beautiful beaches of Honolulu, this season provided many firsts for "The Real World."
Echoing the aloha spirit pervasive on the island, the seven strangers ran their own cafe and performance space in Waikiki.
Booking local music acts, the cast set up its own production company, appropriately called Seven Strangers Productions.
Back at the plantation-style beachfront home they shared, Colin and Amaya became intimately involved--the first time for two roommates to enter into a serious romance on the show.
Later in the season, the cast is forced to deal with Ruthie's alcohol abuse, asking her to seek treatment or move out of the house.
And for the first time, the cast gets to choose anywhere in the world for the annual Real World vacation. India, anyone?
Cast Members
Edit
List of Episodes
Edit