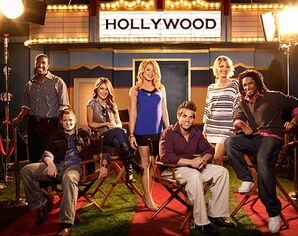 The Real World: Hollywood is the 20th season of "The Real World" that aired from April 16, 2008 to July 12, 2008.
It is the fifth season of the series to be filmed in the Pacific States region of the United States, specifically in California after "The Real World: San Diego."
Although it is the only season to be set in the district of Hollywood, it is also the second season to take place in a city that had hosted a previous season, as the show's second season was set in Los Angeles in 1993.
This season also makes California, the most commonly used state to be used as a setting for the series.
The season featured a total of nine cast members over the course of the season, as one cast member was evicted and replaced, and another was replaced after he voluntarily left the show.
Season Changes
Edit
Residence
Edit
Cast Members
Edit
List of Episodes
Edit
After Filming
Edit
The Death of Joey Kovar
Edit