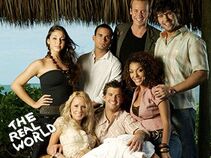 The Real World: Key West is the 17th season of "The Real World." It aired from February 28, 2006 to August 15, 2006.
It is the second season of the series to be filmed in the South Atlantic States region of the United States (specifically in Florida after "The Real World: Miami").
The season featured seven people and was shot in the Key Haven neighborhood of Key West, Florida from August to December of 2005.
The season premiere was viewed by 3.33 million people.
Production
Edit
The production faced a lawsuit by tourism mogul Ed Swift (a neighbor to the Driftwood Drive house) who sought to stop filming at the location, on the grounds that the production's floodlights, commercial-sized air conditioners and outdoor cameras capable of rotating towards his house were a nuisance, and that local zoning laws prohibit commercial use of Key Haven homes.
After MTV threatened to cancel production in response to the lawsuit, a judge threw out the lawsuit and allowed Bunim-Murray Productions to continue filming the season with some minor production restrictions put in place.
During filming, Hurricane Rita made landfall, forcing the cast to evacuate to West Palm Beach. Subsequently, Hurricane Wilma hit the area, forcing them to evacuate again, first to Ft. Lauderdale and then to Orlando.
Residence
Edit
The cast lived in a nearly 6,000-square-foot Spanish Mediterranean-style, five bedroom, four and a half bathroom house at 32 Driftwood Drive in Key Haven, just north of the Key West city limits.
The property spans 32,000 square feet (3,000 m2) of waterfront property and includes a tennis court, indoor racquetball court, gym & an open dock.
The house, which, along with two adjacent lots, was leased from June 28 to December 30, 2005, also included a 12-foot (3.7 m) x 20-foot (6.1 m) indoor pool that was converted into a sunken lounge area for filming. The house also included an outdoor pool.
The house sustained some damage from Hurricane Wilma.
Assignment
Edit
The Key West cast was assigned to assist in starting a Mystic Tan franchise at the Pineapple Gallery.
It closed briefly after Hurricane Wilma had devastated the store and later reopened.
Cast Members
Edit
List of Episodes
Edit
After Filming
Edit
The entire cast attended the reunion which was broadcast on August 22, 2006 as "Fun, Sun, and Now Totally Done: The Real World Key West Reunion" and was hosted by Susie Castillo.