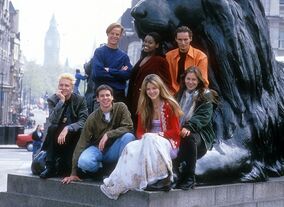 The Real World: London is the 4th season of "The Real World" that aired from June 28, 1995 to November 15, 1995.
It is the only season of the series to be filmed in the United Kingdom. The season featured seven people and is the first of four seasons of "The Real World" to be filmed entirely outside of the United States, being followed by "The Real World: Paris" in 2003, "The Real World: Sydney" in 2007 and "The Real World: Cancun" in 2009.
The cast moved into the Notting Hill Gate flat in January of 1995 and lived there for five months, moving out in mid-June of 1995. The season premiered on June 28, 1995 and was viewed by 2.7 million people.
Regarding following the emotional high points provided by the struggles of Pedro Zamora and David "Puck" Rainey the previous season, series co-creator Jon Murray stated:
"In terms of big dramatic issues, there's no way we could match that. So this year plays on more of a Moonlighting, romantic-comedy kind of feel."
The most notable event of the season occurs when cast member and singer Neil Forrester kisses a male heckler during a performance, who then bites the tip of his tongue off. This event earned Neil a place among other reality television personalities who have been injured during filming on MTV's 2008 "E.R. All-Stars."
The season also features a guest appearance by Blues Traveler whose lead singer, John Popper, dedicates a song to cast member Jay Frank, an aspiring playwright and fan of the band.
Season Changes
Edit
Residence
Edit
Cast Members
Edit
After Filming
Edit