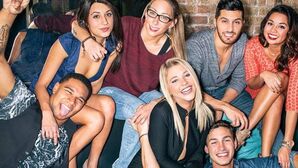 The Real World: Skeletons is the 30th season of "The Real World." It aired from December 16, 2014 to March 10, 2015.
It is the second season of The Real World to be filmed in the East North Central States region of the United States (specifically in Illinois after "The Real World: Chicago" in 2002).
The season features a total of seven cast members over the course of the season and follows a similar twist as the previous season.
Chicago, Illinois was first reported as the location for the 30th season in a June 2014 article by Crain's Chicago Business.
The production started in the summer of 2014 and the season premiered on December 16, 2014, marking the first time that the show has aired on a night other than a Wednesday since season 17 aired in 2006. The season finale aired on March 10, 2015.
However, no reunion special was broadcast, marking the first time since season 10 that a "Real World" season did not air a reunion special.
Season Changes
Edit
Each week, one cast member will be faced with people from their past ("skeletons") who they have unresolved issues with at the moment relating to family, romance, work, and socialization.
Unlike the previous season, the surprise guests will have the option to live in the house for only one week.
Residence
Edit
The cast lived at 1100 W. Randolph Street in the West Loop neighborhood (the location of a former nightclub).
Employment
Edit
This season, all of the cast worked as bartenders, barbacks and waiters at various Chicago bars and nightclubs.
MTV Description
Edit
Seven strangers move into an old nightclub turned fabulous urban loft in Chicago's West Loop, looking forward to high times in the Windy City, leaving their hometowns behind, but each of these roommates has skeletons in their closets: shattered lives, broken relationships, estranged family members and dark secrets.
They soon discover they cannot run away from their past mistakes. Unresolved issues and abhorrent behavior will resurface as the "last person on earth they wanted to see" comes knocking on their door.
Each episode, a new skeleton literally arrives on their doorstep to stay in the house, forcing each roommate to deal with their past lives.
Visiting skeletons reveal surprising details about each of the seven roommates, exposing their secrets, their loves and their ultimate desire to overcome the mistakes of their past.
Full of tears, laughter, conflict and romance, this groundbreaking season of "Real World" will be like no other.
List of Episodes
Edit